It's Anti-Tobacco Day and people all around the world will be using it as (another) starting point to kick the habit for good. But have anti-smoking ads ever worked? Can advertising have a stronger pull than people's addiction? 
The last ad promoting smoking aired in 2003, and since 2005 all sponsorships, general advertisements and promotions were banned as well. Now, agencies are focused on doing the opposite – getting people to quit.
While there is no definitive research to show the direct link between anti-smoking ads and the decline in smoking, there is some research that suggests the more graphic advertising has become, the less people are lighting up. Although some would say the opposite is true. That even a toe-curling image of a brain tumour isn't powerful enough to combat addiction. In fact, it could even make people smoke more.
Good anti-smoking ads
Naturally, effectiveness is a hallmark of advertising success. But with success in this category affected by other factors like non-smoking legislation, wider public health campaigning, packaging and the rising cost of cigarettes, we thought we'd have a look at a few ads from around the world that we think do a pretty good job. Note – no brain tumours, cancerous growths or gangrenous toes in sight.
A simple but clever ad that says it all, really. 
The Lung Association, TBWAVancouver, 2008
Powerful, emotive and cleverly executed, this one needs no explanation either. 
The Roy Castle Lung Cancer Foundation, UK, CHI & Partners, 2008
The copy reads: 'Smoking isn't just suicide. It's murder.' Shocking and thought-provoking, this one is hard for smokers with kids to ignore.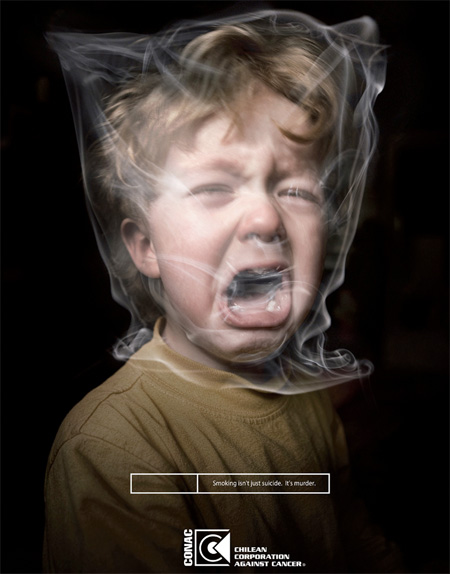 CONAC Chilean Corporation Against Cancer, Mayo Publicidad, Chile
If you smoke and these ads have done their job, why not call it quits today.